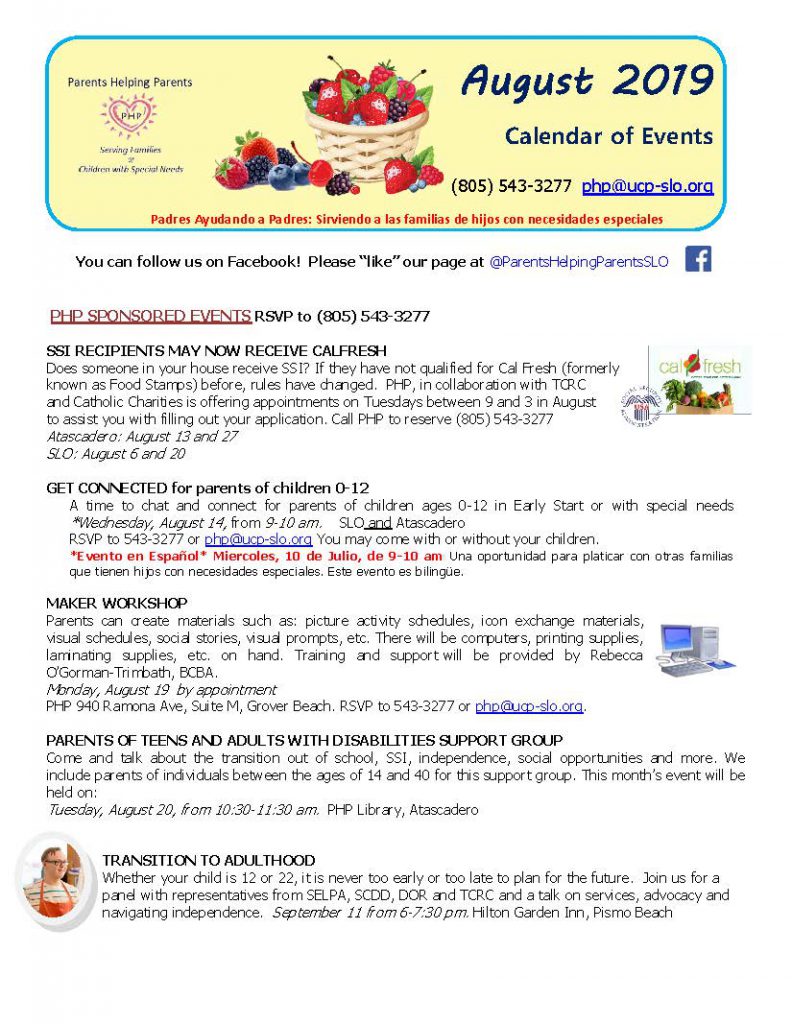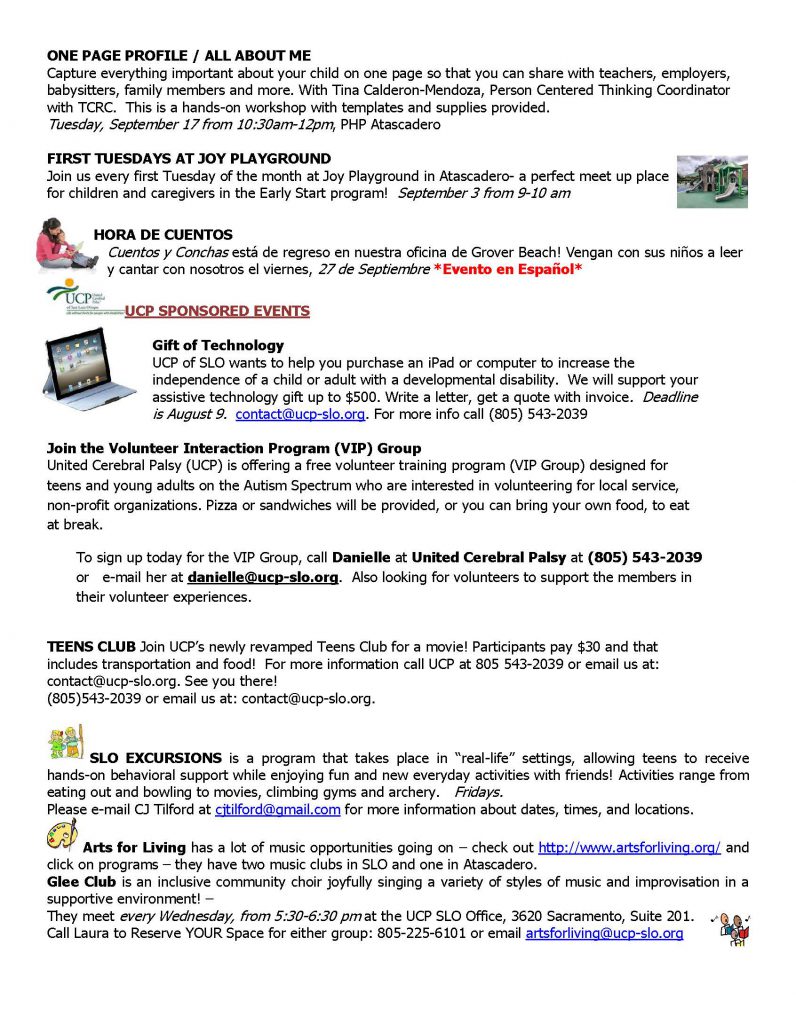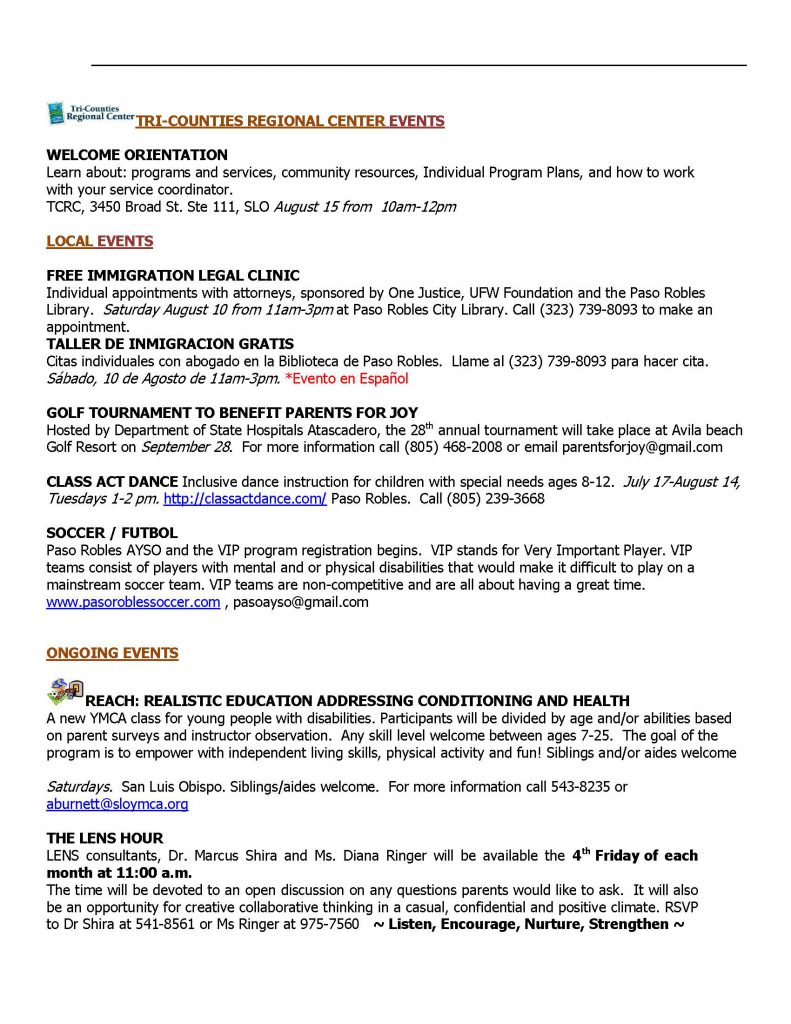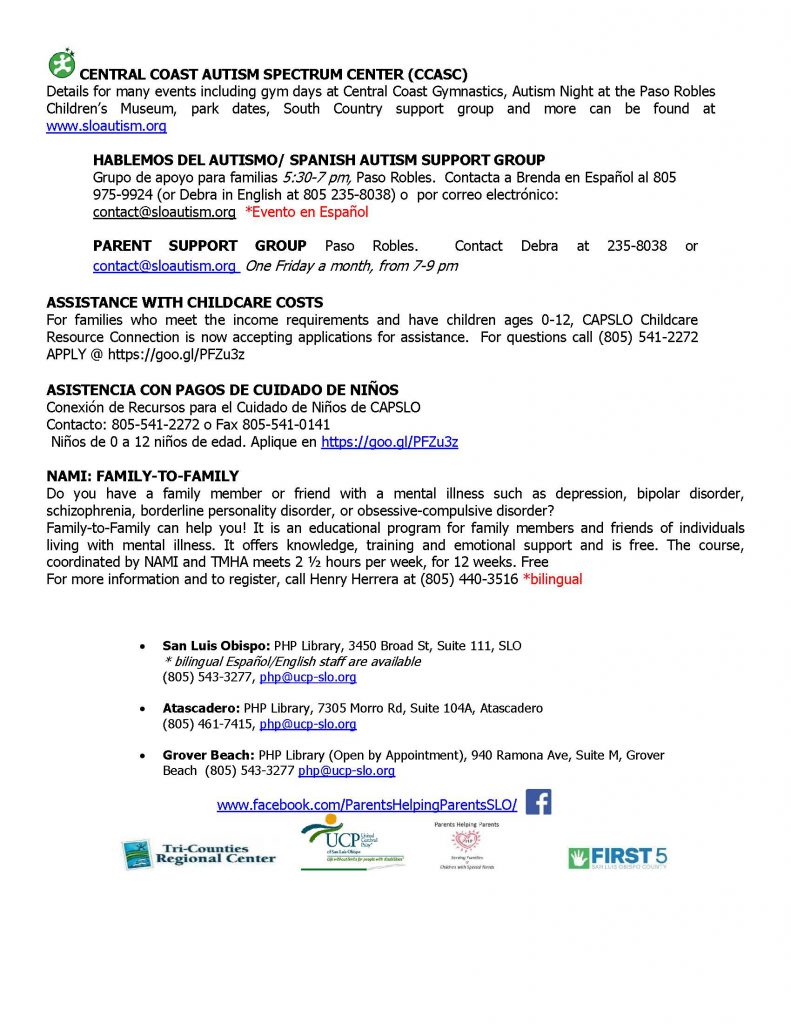 Text Version:
August 2019
Calendar of Events
(805) 543-3277 php@ucp-slo.org Padres Ayudando a Padres: Sirviendo a las familias de hijos con necesidades especiales
You can follow us on Facebook! Please "like" our page at @ParentsHelpingParentsSLO PHP SPONSORED EVENTS RSVP to (805) 543-3277
SSI RECIPIENTS MAY NOW RECEIVE CALFRESH
Does someone in your house receive SSI? If they have not qualified for Cal Fresh (formerly known as Food Stamps) before, rules have changed. PHP, in collaboration with TCRC and Catholic Charities is offering appointments on Tuesdays between 9 and 3 in August to assist you with filling out your application. Call PHP to reserve (805) 543-3277 Atascadero: August 13 and 27
SLO: August 6 and 20
GET CONNECTED for parents of children 0-12
A time to chat and connect for parents of children ages 0-12 in Early Start or with special needs *Wednesday, August 14, from 9-10 am. SLO and Atascadero
RSVP to 543-3277 or php@ucp-slo.org You may come with or without your children.
*Evento en Español* Miercoles, 10 de Julio, de 9-10 am Una oportunidad para platicar con otras familias que tienen hijos con necesidades especiales. Este evento es bilingüe.
MAKER WORKSHOP
Parents can create materials such as: picture activity schedules, icon exchange materials, visual schedules, social stories, visual prompts, etc. There will be computers, printing supplies, laminating supplies, etc. on hand. Training and supportwill be provided by Rebecca O'Gorman-Trimbath, BCBA.
Monday, August 19 by appointment
PHP 940 Ramona Ave, Suite M, Grover Beach. RSVP to 543-3277 or php@ucp-slo.org.
PARENTS OF TEENS AND ADULTS WITH DISABILITIES SUPPORT GROUP
Come and talk about the transition out of school, SSI, independence, social opportunities and more. We include parents of individuals between the ages of 14 and 40 for this support group. This month's event will be held on:
Tuesday, August 20, from 10:30-11:30 am. PHP Library, Atascadero
TRANSITION TO ADULTHOOD
Whether your child is 12 or 22, it is never too early or too late to plan for the future. Join us for a panel with representatives from SELPA, SCDD, DOR and TCRC and a talk on services, advocacy and navigating independence. September 11 from 6-7:30 pm. Hilton Garden Inn, Pismo Beach
ONE PAGE PROFILE / ALL ABOUT ME
Capture everything important about your child on one page so that you can share with teachers, employers, babysitters, family members and more. With Tina Calderon-Mendoza, Person Centered Thinking Coordinator with TCRC. This is a hands-on workshop with templates and supplies provided.
Tuesday, September 17 from 10:30am-12pm, PHP Atascadero
FIRST TUESDAYS AT JOY PLAYGROUND
Join us every first Tuesday of the month at Joy Playground in Atascadero- a perfect meet up place for children and caregivers in the Early Start program! September 3 from 9-10 am
HORA DE CUENTOS
Cuentos y Conchas está de regreso en nuestra oficina de Grover Beach! Vengan con sus niños a leer y cantar con nosotros el viernes, 27 de Septiembre *Evento en Español*
UCP SPONSORED EVENTS
Gift of Technology
UCP of SLO wants to help you purchase an iPad or computer to increase the independence of a child or adult with a developmental disability. We will support your assistive technology gift up to $500. Write a letter, get a quote with invoice. Deadline is August 9. contact@ucp-slo.org. For more info call (805) 543-2039
Join the Volunteer Interaction Program (VIP) Group
United Cerebral Palsy (UCP) is offering a free volunteer training program (VIP Group) designed for teens and young adults on the Autism Spectrum who are interested in volunteering for local service, non-profit organizations. Pizza or sandwiches will be provided, or you can bring your own food, to eat at break.
To sign up today for the VIP Group, call Danielle at United Cerebral Palsy at (805) 543-2039 or e-mail her at danielle@ucp-slo.org. Also looking for volunteers to support the members in their volunteer experiences.
TEENS CLUB Join UCP's newly revamped Teens Club for a movie! Participants pay $30 and that includes transportation and food! For more information call UCP at 805 543-2039 or email us at: contact@ucp-slo.org. See you there!
(805)543-2039 or email us at: contact@ucp-slo.org.
SLO EXCURSIONS is a program that takes place in "real-life" settings, allowing teens to receive hands-on behavioral support while enjoying fun and new everyday activities with friends! Activities range from eating out and bowling to movies, climbing gyms and archery. Fridays.
Please e-mail CJ Tilford at cjtilford@gmail.com for more information about dates, times, and locations.
Arts for Living has a lot of music opportunities going on – check out http://www.artsforliving.org/ and click on programs – they have two music clubs in SLO and one in Atascadero.
Glee Club is an inclusive community choir joyfully singing a variety of styles of music and improvisation in a supportive environment! –
They meet every Wednesday, from 5:30-6:30 pm at the UCP SLO Office, 3620 Sacramento, Suite 201.
Call Laura to Reserve YOUR Space for either group: 805-225-6101 or email artsforliving@ucp-slo.org
TRI-COUNTIES REGIONAL CENTER EVENTS
LOCAL EVENTS
FREE IMMIGRATION LEGAL CLINIC
Individual appointments with attorneys, sponsored by One Justice, UFW Foundation and the Paso Robles Library. Saturday August 10 from 11am-3pm at Paso Robles City Library. Call (323) 739-8093 to make an appointment.
TALLER DE INMIGRACION GRATIS
Citas individuales con abogado en la Biblioteca de Paso Robles. Llame al (323) 739-8093 para hacer cita. Sábado, 10 de Agosto de 11am-3pm. *Evento en Español
GOLF TOURNAMENT TO BENEFIT PARENTS FOR JOY
Hosted by Department of State Hospitals Atascadero, the 28th annual tournament will take place at Avila beach Golf Resort on September 28. For more information call (805) 468-2008 or email parentsforjoy@gmail.com
CLASS ACT DANCE Inclusive dance instruction for children with special needs ages 8-12. July 17-August 14, Tuesdays 1-2 pm. http://classactdance.com/ Paso Robles. Call (805) 239-3668
SOCCER / FUTBOL
Paso Robles AYSO and the VIP program registration begins. VIP stands for Very Important Player. VIP teams consist of players with mental and or physical disabilities that would make it difficult to play on a mainstream soccer team. VIP teams are non-competitive and are all about having a great time. www.pasoroblessoccer.com , pasoayso@gmail.com
ONGOING EVENTS
REACH: REALISTIC EDUCATION ADDRESSING CONDITIONING AND HEALTH
A new YMCA class for young people with disabilities. Participants will be divided by age and/or abilities based on parent surveys and instructor observation. Any skill level welcome between ages 7-25. The goal of the program is to empower with independent living skills, physical activity and fun! Siblings and/or aides welcome
Saturdays. San Luis Obispo. Siblings/aides welcome. For more information call 543-8235 or
aburnett@sloymca.org
WELCOME ORIENTATION
Learn about: programs and services, community resources, Individual Program Plans, and how to work with your service coordinator.
TCRC, 3450 Broad St. Ste 111, SLO August 15 from 10am-12pm
THE LENS HOUR
LENS consultants, Dr. Marcus Shira and Ms. Diana Ringer will be available the 4th Friday of each month at 11:00 a.m.
The time will be devoted to an open discussion on any questions parents would like to ask. It will also be an opportunity for creative collaborative thinking in a casual, confidential and positive climate. RSVP to Dr Shira at 541-8561 or Ms Ringer at 975-7560 ~ Listen, Encourage, Nurture, Strengthen ~
CENTRAL COAST AUTISM SPECTRUM CENTER (CCASC)
Details for many events including gym days at Central Coast Gymnastics, Autism Night at the Paso Robles Children's Museum, park dates, South Country support group and more can be found at www.sloautism.org
HABLEMOS DEL AUTISMO/ SPANISH AUTISM SUPPORT GROUP
Grupo de apoyo para familias 5:30-7 pm, Paso Robles. Contacta a Brenda en Español al 805 975-9924 (or Debra in English at 805 235-8038) o por correo electrónico: contact@sloautism.org *Evento en Español
PARENT SUPPORT GROUP Paso Robles. Contact Debra at 235-8038 or contact@sloautism.org One Friday a month, from 7-9 pm
ASISTENCIA CON PAGOS DE CUIDADO DE NIÑOS
Conexión de Recursos para el Cuidado de Niños de CAPSLO Contacto: 805-541-2272 o Fax 805-541-0141
Niños de 0 a 12 niños de edad. Aplique en https://goo.gl/PFZu3z
NAMI: FAMILY-TO-FAMILY
Do you have a family member or friend with a mental illness such as depression, bipolar disorder, schizophrenia, borderline personality disorder, or obsessive-compulsive disorder?
Family-to-Family can help you! It is an educational program for family members and friends of individuals living with mental illness. It offers knowledge, training and emotional support and is free. The course, coordinated by NAMI and TMHA meets 2 1⁄2 hours per week, for 12 weeks. Free
For more information and to register, call Henry Herrera at (805) 440-3516 *bilingual
 San Luis Obispo: PHP Library, 3450 Broad St, Suite 111, SLO * bilingual Español/English staff are available
(805) 543-3277, php@ucp-slo.org
 Atascadero: PHP Library, 7305 Morro Rd, Suite 104A, Atascadero (805) 461-7415, php@ucp-slo.org
 Grover Beach: PHP Library (Open by Appointment), 940 Ramona Ave, Suite M, Grover Beach (805) 543-3277 php@ucp-slo.org www.facebook.com/ParentsHelpingParentsSLO/
ASSISTANCE WITH CHILDCARE COSTS
For families who meet the income requirements and have children ages 0-12, CAPSLO Childcare Resource Connection is now accepting applications for assistance. For questions call (805) 541-2272 APPLY @ https://goo.gl/PFZu3z