Parent Coaching
Stay Calm and Call a Parent Coach!
North County & Coastal   805-904-1411
South County & SLO   805-709-2023
Spanish Speaking  North County & Coastal  805-712-5038
Spanish Speaking South County & SLO 805-540-1223
If you are a caregiver who is looking for insight to challenging child and teen behavior(s), how to set realistic limits, effective communication, and teaching your child responsibilities, then contact a parent coach who will help you to generate solutions to every day parenting problems.
(this abs set all closed start state)
How are Therapy and Coaching different?
Anyone can benefit from working with a coach, and some people need therapy in addition to or instead of coaching. Coaching is a results-focused and goal-oriented process to help you create a parenting plan, learn new parenting skills, form better parent-child relationships, and build upon your families strengths. 
For those who may be experiencing a clinical need like depression or anxiety, we will recommend working with a therapist in addition to, or instead of coaching.
Coaches work with individuals to help them have the kind of lives they want. While there is no specific degree or license required to practice as a coach, all Parent Connection coaches are rigorously vetted, certified, and trained in evidence-based and informed parenting curriculums.
Therapy can be provided by therapists or psychologists.  Therapists can have a variety of titles (counselors, therapists, clinicians, etc.). What they have in common is a masters degree (M.A., or M.S.) in clinical psychology or a related field and are licensed in the state in which they practice. Common licenses include Licensed Marriage and Family Therapist (LMFT), Licensed Clinical Social Worker (LCSW), and Licensed Professional Counselor (LPC). These therapists are also trained in the assessment and treatment of mental health concerns.  Psychologists have a doctoral degree (Ph.D., or Psy.D.) in clinical psychology or a related field such as counseling psychology or education and are licensed in the state in which they practice. They are trained in the assessment and treatment of mental health concerns.
What is a Parent Coach?
Parent coaches are professionals with years of experience who listen with compassion to parent's concerns. We help you sort through conflicting advice and minimize information overload while supporting proven, effective strategies to find clarity with our parenting.
Many of us grew up with parenting approaches that don't fit with the parenting challenges of today. With our own children, we want to find a better way to parent. We know that parenting situations are often emotionally charged; coaching can help a parent find calm in the chaos and stay focused on what is most important, the  parent-child relationship.
What is a coaching conversation?
* Create age-appropriate, brain-based strategies which address the child's unique challenges
* Build parental strengths and draw on the parent's inner wisdom
* Encourage self-care practices that can be woven into daily life
* Expand a parent's self-awareness, confidence, and competence, with realistic progress that leads to sustainable positive changes
* Provide support so that more satisfaction, peace, and enjoyment is experienced
What is the cost for a coaching session?
Each session is free for all families in SLO County.
Who are the coaching sessions for?
Coaching is available to anyone in a parenting or caregiving role.
Are coaching sessions private?
Yes, all of our coaching sessions are provided by phone or zoom.  Each session is confidential.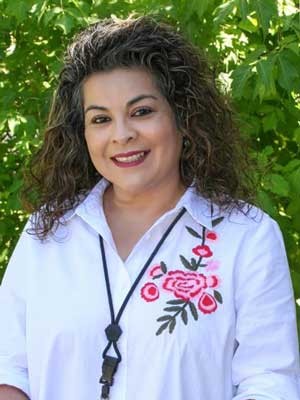 Bessy Hoffman
Parent Coach
Bessy has worked in the education industry for over twenty-seven years. Starting in Los Angeles and later moving to Atascadero, she has specialized in bilingual and special education in both school districts. Bessy has received the Golden Oak award, which is the PTA's highest honor for excellence in working with and providing for the welfare of children in our local community. Bessy's constant drive for the welfare and success of all the families that she works with also led to her being named Santa Rosa Academic Academy's Employee of the Year in 2013. With her exceptional experience in community resources and social services, Bessy constantly strives to provide a secure future for all local and bilingual families. Contact Bessy today for Parent Coaching at 805-712-5038
Bessy ha trabajado en la industria de la educacion por mas de 27 años, su carrera comenzó en la Condado de los Angeles y posteriormente en el distrito escolar de Atascadero, ella se ha especializado en educación bilingüe y educación especial en los dos distritos escolares. Bessy ha recibido el Golden Oak Award que es el galardón de honor que la Asociación de Padres y Maestros P.T.A. (por sus siglas en Ingles) otorga a los niños en nuestra comunidad local. El constante impulso de Bessy por el bienestar y el éxito de todas las familias con quienes trabaja también la elevaron en el año 2013 a ser nombrada Empleada del Año en la Academia Academica Santa Rosa en Atascadero. Bessy está certificada en disciplina positiva y continúa su educación con el entrenador Bill Spencer de coneccion para capacitación a los Padres (Parent Connection). Bessy tiene una experiencia excepcional en proporcionar seguridad a las familias, padres y personas al cuidado de los niños dándoles la mejor educación para ayudarlos a tener un futuro exitoso por medio de una buena relación y acercamiento con sus hijos,  Bessy provee capacitación gratuita y confidencial para padres por teléfono y en persona en el Condado Norte (North County)
Por favor llamarla al teléfono de la coneccion de capacitación para padres de familia 805-712-5038