Date
Mar 01 2021
Expired!
The Whole-Brain Child & Parenting Conversations (3/1-3/22)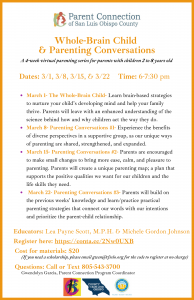 Register here:  http://events.constantcontact.com/register/event?llr=bkpo6zqab&oeidk=a07ehj9fw5wb287ce80
A virtual 4 week parenting series, "The Whole-Brain Child & Parenting Conversations," taught by Lea Payne Johnson, M.P.H. and Michele Gordon Johnson. This  class  is  designed  for  parents  with  children  2 to  8 years  old. March 1- The Whole-Brain Child-
Learn brain-based strategies to nurture your child's developing mind and help your family thrive. Parents will leave with an enhanced understanding of the science behind how and why children act the way they do.
March 8- Parenting Conversations #1- Experience the benefits of diverse perspectives in a supportive group, as our unique ways of parenting are shared, strengthened, and expanded.
March 15- Parenting Conversations #2- Parents are encouraged to make small changes to bring more ease, calm, and pleasure to parenting. Parents will create a unique parenting map; a plan that supports the positive qualities we want for our children and the life skills they need.
March 22- Parenting Conversations #3- Parents will build on the previous weeks' knowledge and learn/practice practical parenting strategies that connect our words with our intentions and prioritize the parent-child relationship.
Download the flyer here: Whole Brain and Parenting Conversations March 2021