Date
Jan 12 2021
Expired!
1/12,19, 26 Parent Place: No Drama Toddler Discipline
You will need to register for all three weeks.
Zoom Series- 3 weeks. January 12, 19, & 26 6pm-7:30 pm
Learn effective ways to discipline your toddler without using punishment, shame or bribes for misbehavior using Drs. Siegel & Bryson's
book No-Drama Discipline as a guide.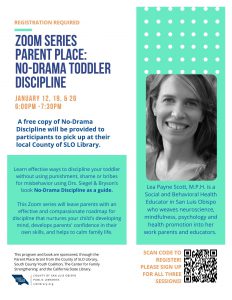 This Zoom series will leave parents with an effective and compassionate roadmap for discipline that nurtures your child's developing mind, develops parents' confidence in their own skills, and helps to calm family life.
A free copy of No-Drama Discipline will be provided to participants to pick up at their local County of SLO Library.
Taught by: Lea Payne Scott, M.P.H. is a Social and Behavioral Health Educator in San Luis Obispo who weaves neuroscience, mindfulness, psychology, and health promotion into her work with parents and educators.
This program and book are sponsored, through the Parent Place Grant from the County of SLO Library, South County Youth Coalition, The Center for Family Strengthening, and the California State Library.
Contact: Margaret Kensinger-Klopfer
mkensingerklopfer@slolibrary.org
805-781-4796