Date
Oct 07 2020
Expired!
Love & Logic (10/7-11/4)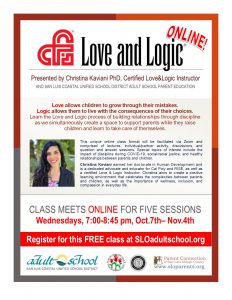 Love allows children to grow through their mistakes. Logic allows them to live with the consequences of their choices. Learn the Love and Logic process of building relationships through discipline as we simultaneously create a space to support parents while they raise children and learn to take care of themselves.
This unique online class format will be comprised of:
Lectures
Individual/partner activity
Discussion
Question and answer session
Special topics of interest will include the impact of discipline during COVID-19, social/racial justice, and healthy relationships between parents and children. PowerPoint presentations of class lectures and activities will be shared with the participants via email at the end of each class meeting.
The class will be facilitated via ZOOM. An email with a link to join the class will be sent after registration is complete. System requirements: computer with camera and microphone, tablet, or smartphone.
This is an online class.