Date
Sep 10 2020
Expired!
Active Parenting for Teens (9/10-10/15)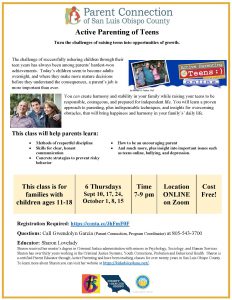 The challenge of successfully ushering children through their teen years has always been among parents' hardest-won achievements. Today's children seem to become adults overnight, and where they make more mature decisions before they understand the consequences, a parent's job is more important than ever. You can create harmony and stability in your family while raising your teens to be responsible, courageous, and prepared for independent life. You will learn a proven approach to parenting, plus indispensable techniques, and insights for overcoming obstacles, that will bring happiness and harmony in your family's' daily life.

This class will help parents learn:
Methods of respectful discipline 
Skills for clear, honest communication
Concrete strategies to prevent risky behavior
How to be an encouraging parent
And much more, plus insight into important issues such as teens online, bullying, and depression
This class is for: If you have children between 11-18, this class is for you.
Dates: 9/10, 9/24, 10/1, 10/8, 10/15
Times: 7-9 PM
Registration required: https://conta.cc/3hFmF0F Registration will close after the first session
Educator: Sharon Lovelady (kidadvice4you.net)