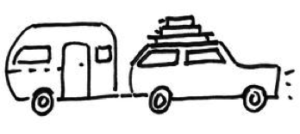 Conversations to Help Navigate Parenting
with Michele Gordon Johnson – Parent Educator/Coach
Parent Coaching and Parent Journaling Groups: Support for parents starting out on their parenting journey and for anyone encountering bumps in the road and blind curves along the way. There is no need to need to pay for assignments or this coaching process. Coaching sessions move through a series of fundamental parenting conversations, with journaling activities to foster greater self-awareness and new ways of thinking about parenting challenges. Parents are encouraged to create a unique parenting map – a plan that supports the positive qualities we want for our children and the life skills they need, with better ways to match our parenting behaviors with our intentions. The coaching process invites parents to make small, sustainable changes that recognize the needs of the entire family and bring more ease, calm, and pleasure to parenting.
Parents will use the parenting journal Are We There Yet? Conversations to Navigate Parenting.
Contact Michele at
805.441.7438 (text or call)
navigateparenting.com
pmgordonjohnson@gmail.com
facebook.com/navigateparenting